[Scene #66]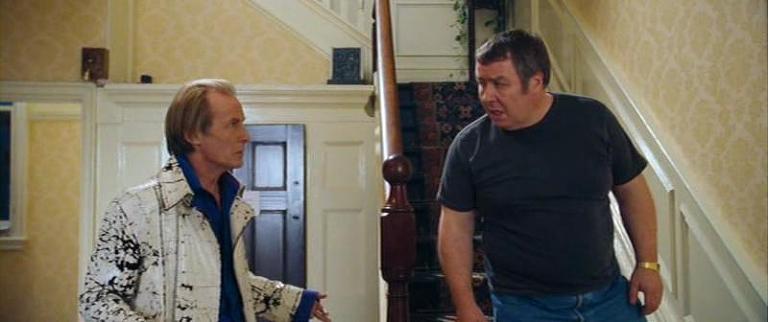 Joe : What the hell are you doing here? You're supposed to be at Elton John's.
Billy : Well, I was there for a minute or two and then I had an epiphany.
Joe : Really?
Billy : Yeah.
Joe : Come on. Just come up. So what was this epiphany?
Billy : Erm, it...it was about Christmas.
Joe : You realized that it was all around.
Billy : No. I realized that Christmas is the time to be with the people you love.
Joe : Right.
Billy : And I realized that, as dire chance and fateful cock-up would have it, here I am, mid-fifties,
an d without knowing it, I've gone and spent most of my adult life with a chubby employee.
And, much as it grieves me to say it, it might be that the people I love is, in fact... you.
Joe : Well, this is a surprise.
Billy : Yeah.
Joe : Ten minutes at Elton John's and you're gay as a maypole.
Billy : No, look. I'm serious here. I left Elton's and a hefty number of half-naked chicks with their mouths open
in order to hang out with you at Christmas.
Joe : Well, Bill...
Billy : It's a terrible, terrible mistake, chubs... but you turn out to be the fucking love of my life. And to be honest,
despite all my complaining... we have had a wonderful life.
Joe : Well... thank you. I mean, come on, it's been an honour. I feel very proud.
Billy : Oh, look, don't be a moron. Come on, let's get pissed and watch porn.
[Scene #67]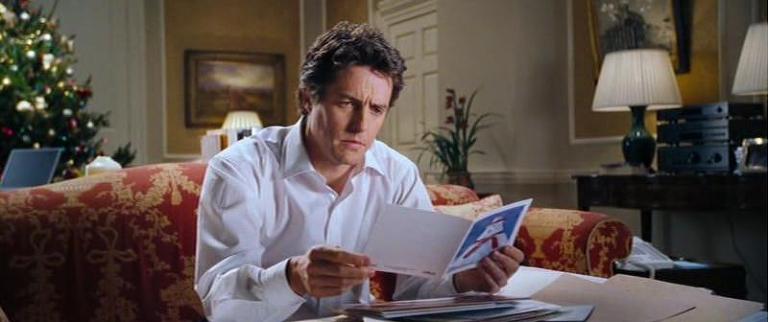 Natalie's Card :
<Dear sir, Dear David,
'Merry Christmas and I hope you have a very happy New Year.
I'm very sorry about the thing that happened. It was a very odd moment and I feel like a prize idiot.
Particularly because - if you can't say it at Christmas, when can you, eh? - I'm actually yours.
With LOVE. xxx Your Natalie.>
PM : Jack, yeah, I need a car. Right now. Thank you.
(to staffs) Oh, don't wait up.
(to driver) I'd like to go to Wandsworth, the dodgy end.
Terry : Very good, sir. Harris Street. What number, sir?
PM : Oh, God, it's the longest street in the world and I have absolutely no idea.
PM : Hello, does Natalie live here?
Woman : No.
PM : Right, fine, thank you. Sorry to disturb.
Woman : Here, aren't... Aren't you the Prime Minister?
PM : Er, yes. In fact, I am. Merry Christmas.
Woman : Oh.
PM : Part of the service now. Trying to get round everyone by New Year's Eve.
PM : Ah. Hello. Does Natalie live here?
Kids : No, she doesn't.
PM : Oh dear. OK.
Kids : Are you singing carols?
PM : Er, no. No, I'm not.
Kids : Please, sir, please. Please.
PM : Well, I suppose I could.
Kids : Please.
PM : All right.
(song)
♪ Good King Wenceslas looked out ♪ On the feast of Stephen
♪ When the snow lay round about ♪ Deep and crisp and even
♪ Brightly shone the moon that night ♪